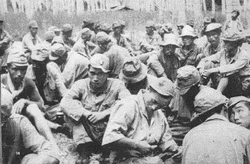 The 38th Imperial Japanese army division was an infantry division of the Imperial Japanese Army during the Second world war. The division's nickname was Nagoya.
History
[
]
The 38th Imperial Japanese Army infantry division was formed in October of 1940.
It saw it's baptism of fire in 1942, when it was the first Imperial Japanese Army division to be assigned to the southern front, which was, at the time, fighting in the Dutch East Indies.
The division alsow participated it the occupation of Hongkong, in the early stages of the Pacific campaign.
The division saw heavy fighting during the battle of Guadalcanal, where it took heavy losses, when it tried to retake the Island from Allied forces occupying it. After the battle the division was assigned to the defence of New Britain and New Ireland until the end of the war.
Units and Regiments
[
]
228th Infantry regiment
229th Infantry regiment
230th Infantry regiment
38th Mountain gun regiment
38th Engineer batalion
11th Construction regiment
13th Construction regiment