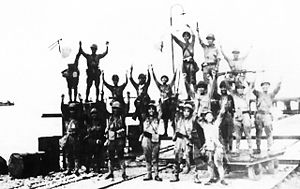 The 2nd Imperial Japanese Army division was a division of the Imperial Japanese Army. The divisions nickname was the Corageous division.
The division was formed in Sendai, MIjagi in 1871.
From 1930-1933 the division was a part of the Japanese invading Kwatung army, which invaded China, as a result of the Japanese conquest in the Pacific.
After the start of the Second world war the 2nd division was reasigned to the southern front under command of Field Marshal Terauchi Tisachi's southern front.In 1942 the division invaded the Dutch East Indies and afterwards attacked Guadalcanal in the Solomon islands. It lost over 7000 men in the battle.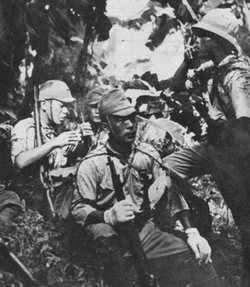 Afterwards it was assigned to garrison duty in Singapore and Malaya. The remnants of the battered division were assigned to the Japanese 38th Army in French Indochina.
Units and Regiments
Edit
4th Infantry regiment
16th Infantry regiment
29th Infantry regiment
2nd Artilery regiment
2nd Engineer batalion